On-Site Eye Surgery Center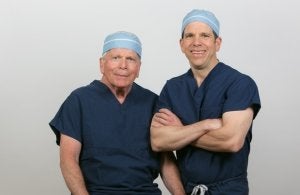 For the convenience and safety of our patients, the Gerstein Eye Institute features an on-site, accredited surgical facility. Located within the office complex, with a separate entrance on Whipple Street, this surgery center is one of only six eye care surgery centers in Illinois that is state-licensed, Medicare-approved and accredited by the Accreditation Association for Ambulatory Health Care, Inc. (AAAHC). This accreditation means that our surgery center consistently exceeds the high standards set by the state.
Patient Benefits
Unlike the impersonal atmosphere and complicated registration procedure at hospitals, our patients experience greater privacy, more individualized attention and reduced exposure to hospital-borne pathogens. They also enjoy a friendly atmosphere where highly skilled professionals provide the personal service patients deserve.
Preparing for Surgery
The ASC director of the surgery center oversees your visit and gives you the information you need to make your experience as easy and comfortable as possible. Before your surgery, you will be provided with preoperative instructions, which need to be followed carefully. If you have any questions at any time, please feel free to call us at (773) 973-3223.