Eyeglasses & Contact Lenses in Chicago, IL
Professional Optician

Our  optician, Ben, will provide expert guidance in choosing the best eyewear to meet your needs. With over 10 years of experience, Ben has been assisting patients select frames for every aspect of your life. Weather it's sporty to professional or trendy to classic our optical shop has the perfect frames for you. Ben specializes in contact lens fitting and training. Many patients with complex prescription glasses seek out our expertise. Our office is equipped with the latest diagnostic equipment to assist our eye doctors in providing you with crisp vision. Come in and visit Ben in our optical shop. No appointment necessary!
Glasses & Eye Contacts
Get Clear Eyesight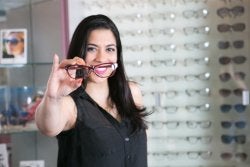 The Gerstein Eye Institute features a full-service eye center for the convenience of our patients. Located just off our reception area, the eye care center features a comprehensive range of stylish eyeglasses and eye contacts. Our professional optician will be happy to help you with all of your needs.
Contact Lenses
Many medical, therapeutic and cosmetic conditions of the eye can be treated with eye contacts. After careful evaluation from an eye exam, our eye doctors will fit you with the proper lenses and assist you in their insertion and removal. The Gerstein optical center offers eye contacts in clear and colors. Additional eye contacts can be ordered by phone and can be mailed to you or picked up in our office.
Eyeglasses
You can choose from a wide selection of fashionable as well as functional frames for prescription glasses. Our optician will ensure that your glasses fit well and meet the parameters of your personal prescription. Our eye doctors will give you a vision test to see if you are nearsighted, farsighted, or suffer from another eye condition. If our eye exam shows that you have poor eyesight, we'll give you prescription glasses so that you can enjoy clear vision.
Fair prices. Professional fit. Convenience. Confidence. This is why most patients of the Gerstein Eye Institute prefer our on-site optical center.