General Eye Care in Chicago, IL
Professional Eye Doctors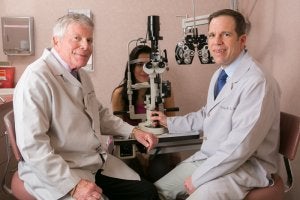 Patients from all over the Chicago area come to the eye doctors at Gerstein Eye Institute for cataract and lens implant surgery, multifocal intraocular implants, the most advanced techniques in refractive or Lasik surgery, ICL (intraocular contact lens) as well as other eye conditions, including glaucoma and macular degeneration.
It's easy to see why our eye care center is so popular. At our full-service, comprehensive eye care center, board-certified ophthalmologists Drs. Melvyn and Craig Gerstein take a personal interest in each patient, skillfully diagnosing and treating a wide range of eye conditions. Many patients find it very comforting to have compassionate, concerned physicians who take a genuine interest in their eye health and provide valuable advice.
Common Eye Conditions include:
Glaucoma
Macular Degeneration
Diabetic Retinopathy
Optical Center
Flashers/Floaters
Pink Eye/Conjunctivitis
Dry Eyes
Blepharitis
Most of our patients at our eye center are encouraged to get a comprehensive eye examination every 1-2 years, unless they are having a specific problem. During these visits to our eye clinic, our ophthalmologists will examine your eyes and check to see if your current prescription is correct and test for a variety of eye conditions. Since prevention is the best medicine for eyesight, regular visits to the Gerstein Eye Institute are invaluable for maintaining your vision. Our eye doctors will take thorough eye tests to determine if you suffer from an eye condition. Our eye care center in Chicago, IL is able to treat various conditions and improve your eyesight.
If you have any questions at any time, please feel free to call us at 773-973-3223.