LASIK Eye Sugery in Chicago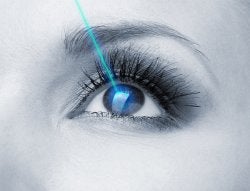 Are you tired of wearing glasses or dealing with contact lenses that are easy to lose and inconvenient to keep clean? We offer effective and safe Lasik procedures that can correct your eyesight and eliminate the need for you to ever wear lenses or glasses again. Our team of licensed and board-certified ophthalmologists has over 50 years of experience with ocular surgery and we'll ensure your eyesight is maintained, or in many cases, improved. Since 1968 we've served over 50,000 patients with astigmatisms and other visual issues, and we'll strive to see you satisfied with the final results. Contact us now to schedule a FREE initial Lasik consultation.
Lasik is a refractive eye surgery that can correct such conditions as myopia, hyperopia, and astigmatism. Lasik is performed by a licensed ophthalmologist who utilizes a microkeratome laser to reshape the eye's cornea to improve visual acuity. Lasik has provided countless patients with long-lasting visual clarity and the ability to forego glasses or contact lenses. Recent surveys of Lasik's approval ratings have shown patients satisfaction is between 92 and 98 percent. As Chicago's leading Lasik center, we offer safe and effective Lasik procedures that will give you the vision you want. Whether you suffer from nearsightedness, farsightedness, or any other astigmatism, we can correct the issue. Lasik requires very little downtime and our staff will be happy to consult with you, answer all of your questions, and diagnose if this procedure is right for your condition. Contact us today.
Lasik offers a wide range of benefits for those who suffer from astigmatism, myopia, or other ocular/vision issues. Besides providing nearly permanent clear vision, Lasik offers:
Painless procedures you won't have to stress about.
Vision improvement up to 20/20 or better.
No bandages or stitches required.
Reduced need for glasses or contact lenses.
Hundreds of dollars in savings from buying glasses or new contact lenses.
Less frequent eye strain and much more…
Give yourself the gift of clearer vision and hassle-free improved eyesight by contacting us today for a FREE Lasik evaluation. We've served countless patients from all walks of life in Chicago, IL, and we'll strive to see your vision drastically improved.
Our Alegretto Wave Eye-Q system
At the Gerstein Eye Institute, our ophthalmologists use the ALLEGRETTO WAVE® Eye-Q for its unsurpassed technological excellence and superior visual results. PerfectPulse Technology® ensures safe and precise work at high speed. Each ultra-thin laser pulse is used to sculpt the corneal surface of the eye with the utmost precision. Taking human eyesight beyond 20/20 is possible. The ALLEGRETTO WAVE® Eye-Q brings you closer to achieving your desire for perfect vision. This technology, built by WaveLight, represents a new generation in laser vision technology. We accept most insurance plans and we offer easy financing options for procedures that may not be entirely covered by insurance. If you've been waiting to have laser eyesight correction and want to achieve crystal clear vision, then ask about our Alegretto Wave Eye-Q treatment by scheduling a consultation today.
Contact us today to schedule an initial consultation.