Chicago's Cataract Surgery Specialists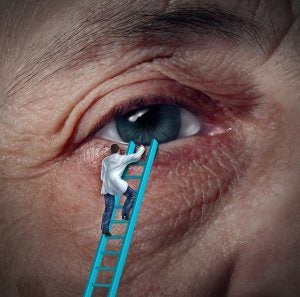 Do you suffer from blurry vision or other eye cataracts symptoms? If so, our ophthalmologists in Chicago, IL, can help with our premium cataract surgery options. With expert cataract surgery at our eye care center, we'll be able to improve your eyesight dramatically. Our ophthalmologists can treat any symptoms of cataracts that you may be suffering from. We offer comprehensive eye examinations, antibiotic eye drops, and a wide range of eyeglasses and contact lens options to choose from. Enjoy the crystal-clear vision you've always wanted when you contact Gerstein Eye Institute today for an initial eye examination and consultation.
What are cataracts?
People commonly misunderstand an eye cataract to be a "skin" on the eye that must be "peeled off." A cataract is not a growth, but a normally clear lens inside of the eye that has turned cloudy. Cataracts interfere with vision by scattering light as it passes through the eye and into the retina. This light dispersal causes commonly known cataract symptoms such as blurred images, loss of contrast, glare, or starburst. Eye cataracts often occur as a person ages and approximately 21 million American adults have cataracts. They typically develop by the time a person reaches their 60s or 70s, although they can occur at younger ages or may exist at birth. Other cataract causes can include eye trauma, inflammation in the eye, or diabetes. Eye cataracts usually develop in both eyes, but they may develop at different rates. If you have trouble reading, enjoying visually detailed hobbies, reading street signs, or driving because of blurred vision or glare from headlights, contact our expert ophthalmologists to determine if you need an eye cataract procedure. We can diagnose any visual issue with efficacy and an assurance of reliability. Read our cataract surgery FAQ here.
Enjoy clear eyesight again
There are now several advanced technology intraocular lenses (IOLs) available, such as: Tecnis Multifocal®, Crystalens®, and ReSTOR®. All are exciting new FDA-approved vision correction technologies that permit patients to experience natural, seamless distance, intermediate, and near vision clarity. These plastic lenses are surgically implanted to permanently replace the old, hard natural lens of the eye and offer greater freedom from glasses, contact lenses, and reading glasses while restoring visual acuity. At Gerstein Eye Institute, we take pride in our ability to help patients of all ages restore their eyesight and experience optimal reading, watching, and active lifestyle activities. We have over 50 years of experience in the field and our team of fully licensed ophthalmologist will be happy to address your questions and concerns about any procedures. Contact us today.
Our intraocular lens procedure solutions
Intraocular lenses can correct most degrees of nearsighted and farsightedness. Astigmatism may be corrected during or after the implantation by performing an additional cataract procedure. At the Gerstein Eye Institute, our board-certified ophthalmologists can determine if these lenses would be the right option for you. We also offer corrective Lasik surgery, medicated drops for ocular infections, and comprehensive eye exams to diagnose any visual issue. We'll strive to ensure your eyesight remains flawless for the rest of your life. Prevent cataract symptoms by contacting us for an ocular evaluation. When it comes to reliable ocular treatments and affordable eye procedures, we offer unparalleled service.
Contact us today for our custom services.