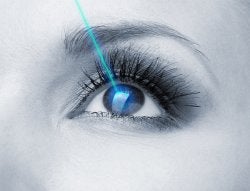 Do you rely on contact lenses or glasses in order to see clearly throughout your day? Do you wish you could wake up in the morning and see without having to reach for your glasses first? If so, it might be time to consider scheduling a LASIK consultation near Chicago . LASIK eye surgery uses lasers to reshape the cornea, which in turn results in better vision and decreased reliance on glasses and contact lenses. Thousands of LASIK procedures are performed every day around the world, and for good reason. Read on to learn why LASIK is the leading laser vision correction procedure.
Effectiveness
One of the reasons why LASIK is so popular is quite simple: it works. About 96% of LASIK patients end up with their desired vision after the procedure, which can be life-changing for many people. Those who have always needed glasses or contacts to read, drive a car, or even look in the mirror may be able say goodbye to these assistive aids thanks to LASIK. If you still have room for improvement after LASIK eye surgery, you can ask your eye doctor about an enhancement procedure to make your results even more dramatic.
Safety
As with any surgery, it is important to understand the potential risks of LASIK before you undergo the procedure. However, new LASIK technology means that doctors rely on precise lasers to reshape your cornea, and no blades are involved at all. These lasers are safer and more accurate, and create more predictable results than ever before.
Recovery
Most patients who are considering LASIK have similar concerns, especially regarding whether the procedure will be painful and what the recovery period will be like. You should not be able to feel anything during the procedure, which can usually be completed in less than 30 minutes. After your eye surgery is complete, you may feel a slight bit of discomfort, but only for a few days at most. Your eye doctor can give you drops to make you more comfortable. There is no need for stitches or bandages following the procedure, though you will need someone else to drive you home on the day of your surgery.