Glasses Cleaning and Care Tips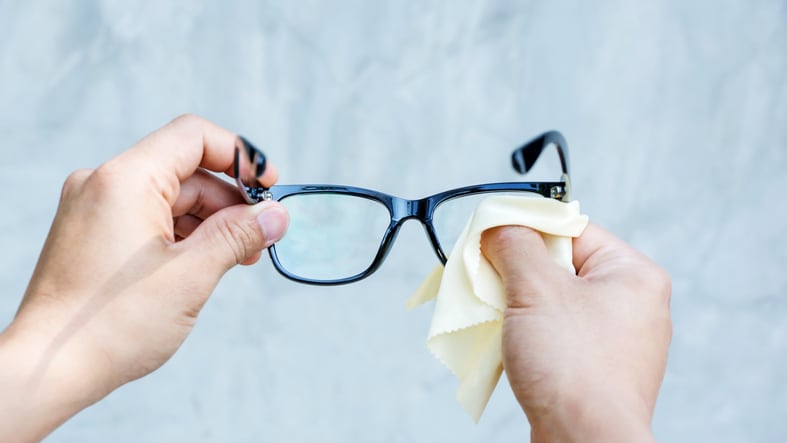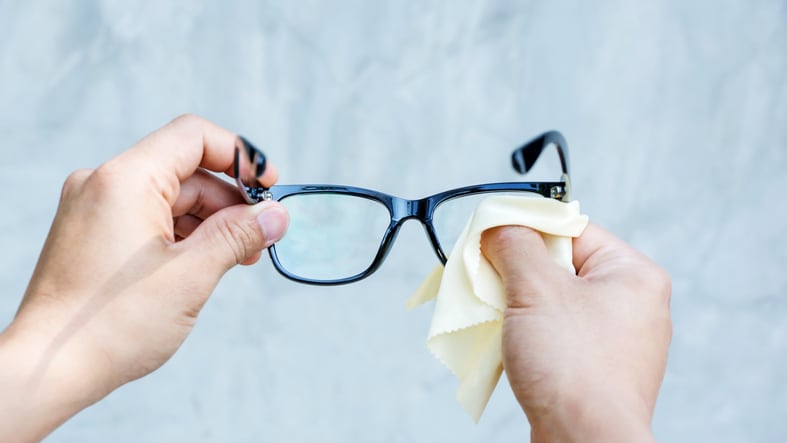 Eyeglasses aren't just an important tool for improving your vision- they're an investment. Once you've found the right pair, you'll want to take excellent care of them, so that they'll last a long time and keep you seeing clearly. Here, we offer some glasses cleaning and care tips to help you care for your glasses the right way, not just to keep them clean, but also to prevent scratches and other damage.
First things first: some dos and don'ts for keeping your lenses sparkling clean.
Do start with clean hands. Before you ever touch your eyeglasses, wash and dry your hands thoroughly. Make sure to use lotion free soap and dry with a clean, lint-free towel if you're going to be working with your glasses.
Don't pull off your glasses and rub them with your shirttail. Your clothing can have dust, debris, and particles that can scratch your glasses. Using a microfiber cloth designed to clean glasses is a better bet, but a dry cloth is still not as good as water.
Do use lukewarm water to rinse your glasses. Hot water can damage some eyeglass coatings, but lukewarm water will go a long way toward removing the dust and debris that can scratch your lenses when you're cleaning them.
Don't use saliva to clean the lenses. Your spit is not going to do a good job, and it's also not hygienic.
Do use lotion-free dishwashing liquid to help get them really clean. Use only a small amount, because dishwashing liquids are typically very concentrated. Gently rub the lenses on both sides, then clean all parts of the frame, including the nose pads and the part that goes behind your ears.
Don't use household glass or surface cleaners on eyeglasses. The chemicals used in these products can damage the coating on your glasses.
Do rinse away all traces of soap. If soap is left on your lenses, they'll smear when you dry them.
Dry with a shake and a polish. Shake the glasses to get most of the water off of the lenses, then look them over carefully to make sure they're clean. Using a clean, lint-free towel that hasn't been laundered with a dryer sheet, carefully dry the frames and lenses. Make sure the towel is completely clean, because dust, dirt, cooking oil, or any other substance can cause scratches on your lenses. If any spots remain, gently buff them with a clean microfiber cloth.
Don't use random fabrics to clean your lenses. Paper towels, tissues, napkins, and toilet paper can all leave your glasses linty, scratched, or smeared.
Now that you know how to clean your glasses, how can you keep them free of scratches? When you purchase glasses, opt for scratch resistant coating, to make it easier to keep them from harm. Further, one of the most important things you can do is to make a rule for yourself: if they're not on your face, they're in their case.
Remember, no pair of eyeglasses will last forever. Over time, normal use and exposure to the environment is bound to create a few scratches. Occasionally, you'll probably even drop or misplace your eyeglasses. Even with scratch resistant coating, your glasses are no scratch proof. Your eye care provider can help you with an anti-scratch warranty for your lenses, but ultimately, you're going to need to replace them because scratches in the lenses can irritate your eyes.
When it's time to get new glasses, it's time to have a complete eye exam to make sure you're using the right prescription. If you are looking for an eye doctor, the Gerstein Eye Institute in Chicago can help. Since 1968, the Gerstein Eye Institute has been providing exceptional ophthalmologic care to patients in the Chicago area. With decades of experience in ophthalmology, our certified professional staff members work hard to provide the kind of personalized care that keeps patients coming back year after year, eventually entrusting the eye health of their children and grandchildren to us as well. To schedule an appointment, call us at (773) 973-3223 or contact us through our website.