How to Find the Perfect Frames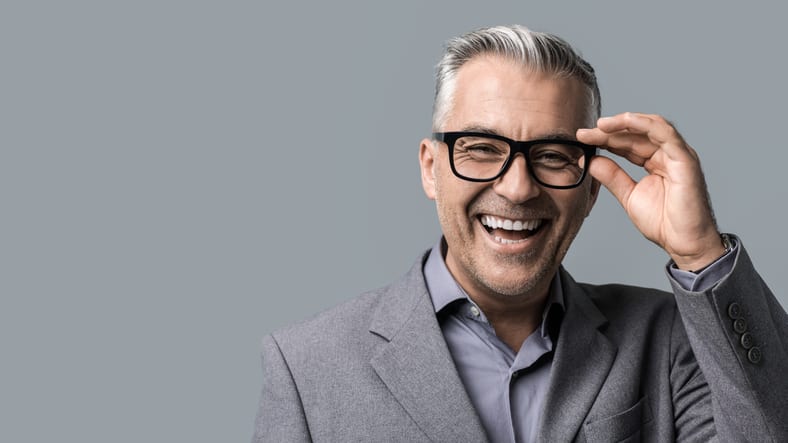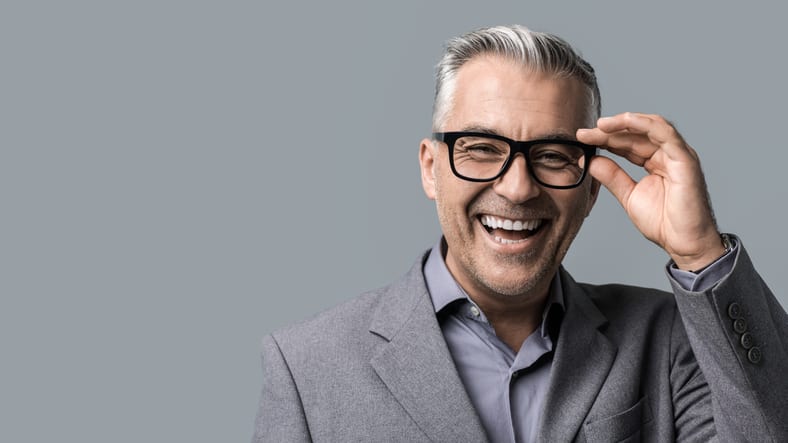 What's the secret to choosing the perfect eyeglasses? Once you've got the right prescription in hand, it's time to pick the right frame for your face. How do you choose? There's some debate over whether face shapes are an accurate metric for choosing the best frames, so we'll look at a few different aspects that come into play.
Face shape is certainly part of the puzzle. Basically, you want to choose frames that complement and balance the shape of your face.

A round face is best served by square or rectangular frames, wider than the face, to make it appear slimmer and longer.
Oval faces can take just about any frame but typically look best in geometric frames with a strong bridge. Because oval faces are typically symmetrical, it's best not to throw off the natural balance by choosing frames that are too large.
To soften the angularity of a square face, choose oval or round frames, avoiding anything boxy or angular.
A diamond-shaped face with delicate features will benefit from frames that are wider than the cheekbones and draw the eye upwards. Good examples of this are cat eye glasses and oval frames.
If your face is heart-shaped, choose frames with low-set temples and bottom-heavy lines, or glasses that draw attention away from your forehead, like round frames or square frames with curved edges.

Perhaps more important than face shape is the look of your features. No matter what your face shape may be, you can balance sharp, angular features with frames in soft shapes, or offset soft, rounded features with frames that have straight lines. It's also a good rule of thumb to choose glasses that direct attention away from the most prominent part of your face.
Consider color carefully. Most people choose neutral frames because they go with just about everything. However, you can match your frames to your coloring, choosing to complement your eye or hair color or skin tone.

Eyes: If you need a professional look, choose neutral, subdued tones. If you're going for a fun, casual look, choose a complementary color to make your eyes pop. For blue eyes, that could mean orange tones, tortoiseshell or brown. To make brown or amber eyes stand out, choose a bold color like green or blue. Gray eyes look great with a brightly colored frame, and green eyes look good with earth tones or a bold purple or gold.
Hair: With black hair, darker frames typically work well, in tones that complement your undertones. White or gray hair gives you the freedom to play around with just about any color, and red hair allows for bold colors, as long as the color isn't red. If you have warm undertones in your blond or brown hair, you'll probably look good in tortoiseshell frames, while pastels work well for cool undertones.
Skin: Cool undertones call for cool colors, warm undertones look best with warm colors, and if your undertones are neutral you can wear just about any color.

It's perfectly acceptable to let your style overrule the rules. Your glasses can help express your personality, enhance your personal style, or provide functionality to match your lifestyle. As long as they fit properly and make you feel confident, feel free to choose any frames you like.
Before you start shopping for the best frames, it's important to know your prescription is up to date and you're choosing the right lenses. The right prescription requires the right eye doctor, and the Gerstein Eye Institute in Chicago can help. Since 1968, the Gerstein Eye Institute has been providing exceptional ophthalmologic care to patients in the Chicago area. With decades of experience in ophthalmology, our certified professional staff members work hard to provide the kind of personalized care that keeps patients coming back year after year, eventually entrusting the eye health of their children and grandchildren to us as well. To schedule an appointment, call us at (773) 973-3223 or contact us through our website.